Are you giving demos to the
wrong

person?

We help your sales team to strategically approach the right DMU.

We have years of experience with LinkedIn lead generation and helped many companies connecting to their potential customers.
The Problem
Here is what fellow sales managers struggled with before Famelab.
🧑🏾 ' Getting in contact with the right leads is difficult. We did not know where to start.'
👩‍🦱 'At some point, we found out 3 of my colleagues were talking to a different persons in the company we were approaching, we missed a strategy.'
🧑‍🦰 'When one of my team members left, we lost all her leads.'
The Solution
Manage your company's LinkedIn Leads from one place. In one view you see all contact points in every company you are approaching. And while talking to your lead, you always have the company information next to the chat box.
Start your strategical sales approach.
Book a Demo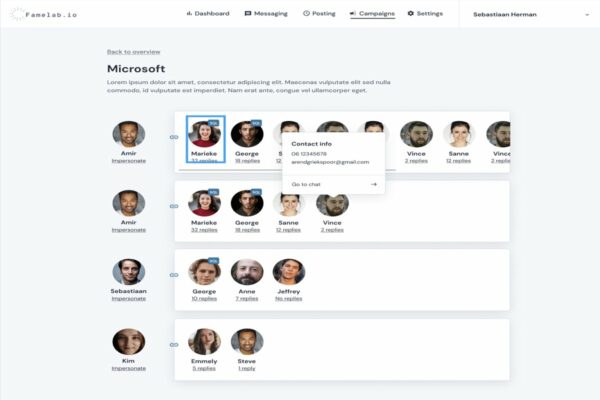 One overview of all contacted prospects
You can easily see which team member is connected with which lead.
Approach sales strategically
Let juniors connect with juniors, and seniors connect with seniors. People like to talk to their equals. Reaching the DMU was never so easy.
Talking to Marketing Qualified Leads?
No problem, easily transfer them to your marketing team and let them nurture your leads with marketing content.
Starting from
€950,-

a month.



Save hours in approaching the wrong leads.
Instead, allow your team to work together and boost your sales.

Get into contact to find a package that suits your team.

Contact
Our Mission
Personal contact is the most valuable aspect of sales. LinkedIn lead generation is therefore one of the most powerful ways to connect with potential clients.
Make sure your team works together to make a new deal. Start approaching your clients strategically.