Makes your brand

famous
Become Famous on LinkedIN and generate a ton of leads in the process
Book a demo
Famelab Sales
Funnel
We help you using a three step process to create a powerful LinkedIN network that is ready to do business with you.
Book a demo
🤝

Convert

Easily convert warm leads into customers, directly injected to your favourite CRM.
🔥

Heat up

Become a trusted leader in your field with relevant posts that are visible for your entire community.
👍

Build

Connect with a zillion new leads within your target audience and get in contact with them using qualified sales funnels.
Famelab

Nurturing
Use Famelab to get your personal brand out there! Plan your LinkedIn posts and our dedicated LinkedIn Engagement Booster will be able to effectively reach more people in your desired community and make your brand known.
Get started now!
Famelab

Community Building
Form a group with your colleagues to interact with each other's posts. By giving and receiving likes from people in your community your posts will be extended even further by the LinkedIn Algorithm and will guarantee that your voice will be heard!
Book a demo
Famelab

Personal Marketing
Famelab helps you publish more consistently with the introduction of the post scheduler. With the post scheduler you will be able to decide which posts you want to publish ahead of time. Through consistent publishing on LinkedIn your community can solidify your authority position.
Get started now!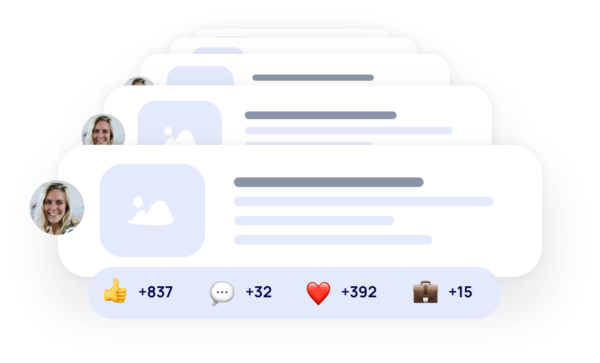 CRM Powered

Sales Automation
Integrate Famelab into your CRM tool to add more value to the relationships you've build. With Famelab you will be able to sequence messages to your personal connections. By having a pre-organized sequence of messages, you will increase the chances of turning your leads into conversions.
No hidden fees

Transparent pricing
Nurturing
€250/mo
Lead nurturing (15 seats)
Personal brand manager (15 seats)
Monthly statics
Auto-resharing company posts
Building
€550/mo
€ 350 ,- one time fee for setting up campaigns and communication templates
Cold sales funnel (1 seat)
Warm sales funnel (1 seat)
Lead nurturing (15 seats)
Personal brand manager (15 seats)
Customer success manager
Extra sales funnel
€395/mo
Cold sales funnel (+1 seat)
Warm sales funnel (+1 seat)
I managed to get 20 new appointments in just one month of using Famelab!
Je had me al bij de 3de slide. Stuur mij maar een contract, dan teken ik het!
Binnen een week al een deal!